Amyotrophic Lateral Sclerosis, commonly referred to as ALS or Lou Gehrig's Disease, is a rare fatal neurological disease that attacks ones motor neurons. It affects over 3,000 people in Canada, and close to 500 in B.C.
Karen Gossen is one such B.C. resident, and was diagnosed with the disease back in 2014.
Speaking to Black Press, the Winfield resident is preparing to participate in the Move to Cure ALS walk at Vernon's Polson Park on Saturday, June 10.
"This will be my sixth walk/move since diagnosis," said Gossen. "Luckily, we have faithfully been joined in the event by family and friends."
Her journey since being diagnosed has, thus far, been slow. Throughout the past eight and a half years, ALS has primarily affected her legs. She currently uses a manual wheelchair at home.
Gossen, as she said herself, has been lucky, having much outlived the standard life span of someone diagnosed with ALS.
"The doctors typically say between two-to-five years. Some go quicker, and some faster but mine has been relatively slow."
There is no cure for ALS, which is a frightening reality for those diagnosed and their family members.
"When I first heard the doctor's words that it was ALS, I immediately asked 'what are the next steps/ what's the cure,'" said Karen's husband, Randy, who has taken on more of a caretaking role in recent years. "Having to hear from the doctor that there is truly no cure to solve it (ALS) was very tough to hear."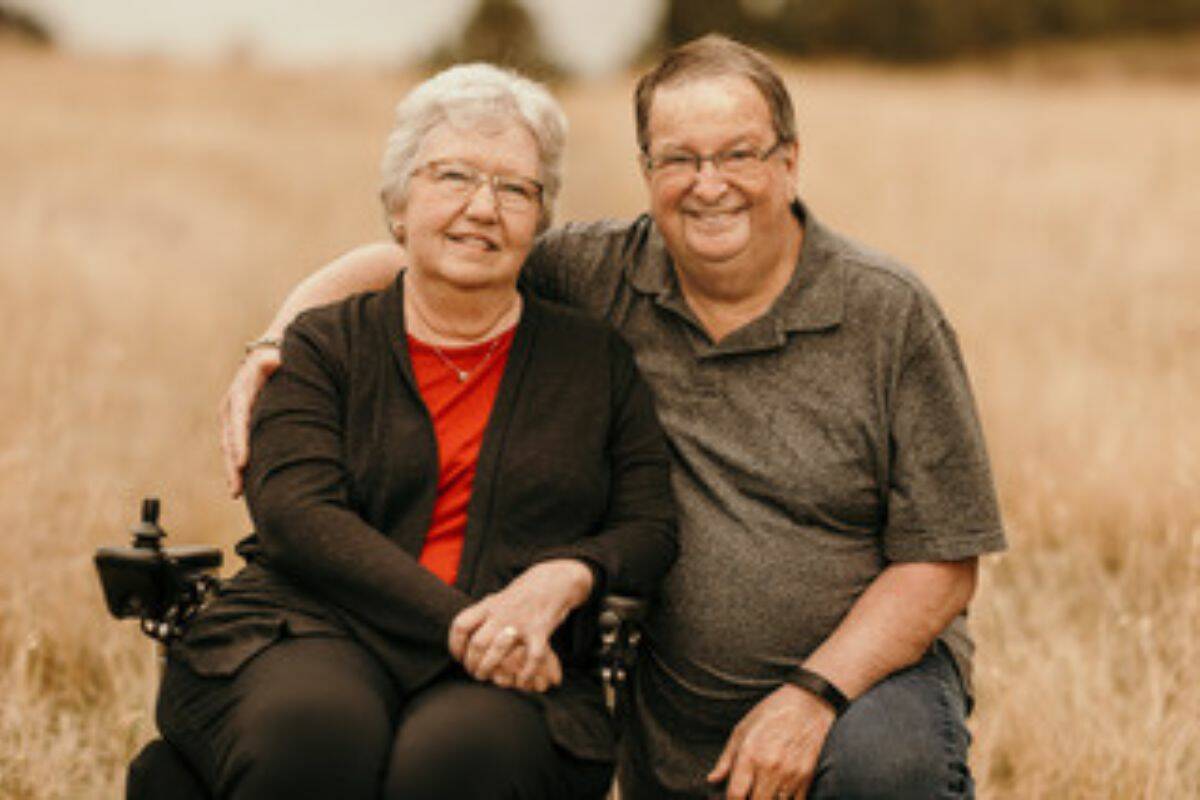 After spending the majority of their working lives on the Prairies, the couple moved to the Lake Country area for retirement.
"We were big travellers, and we partly picked Lake Country/Winfield because of how close it is to the airport," said Randy.
However, since Karen's diagnosis, their whole retirement plan was thrown into the wind.
The diagnosis now makes it extremely difficult to travel and little things, such as watching one of their grandchildren play sports, takes much more time.
"We just have to learn to adjust and take it one day at a time," Karen explained. "We don't even think about things we cannot do anymore as that just takes us down a bad path, so we try to be positive."
Their house, while not initially built to be accessible friendly, has been outfitted with ramps, poles and other equipment so that Karen can get around.
"I haven't been downstairs in years," she laughed. "But Randy is my rock and caregiver and I still do the laundry and put away the dishes, as it's a good way to keep my agency."
The Gossens sing the praises of the ALS Society of BC for their support throughout their journey.
"We are so thankful to have had the help of them," Karen said. "They have been wonderful assisting us."
Some of the things that the society assists with is providing (free of charge) wheelchairs, walkers, and other modes of transportation, along with meetings with occupational therapists.
In addition, there are support groups, through Zoom, where those affected by the disease have an outlet to express themselves, and help one another.
Sixty per cent of funds from the ALS Move to Cure event on Saturday, June 10, will go towards the society, to assist those living with the disease in B.C. and the Yukon
Registration starts at 10 a.m., with a start time for moving set for 11 a.m. Those who attend will come together to move, whether that be walking, running, rolling, supporting or just being present. There will be a barbecue and 50/50 draw, along with other family-friendly fun.
Fourty per cent of the funds from the walk also go towards Project Hope, which works on the front lines of the world's health challenges, partnering hand-in-hand with communities, health care workers and public health systems to ensure sustainable change.
"It's going to be a great experience, and I am very excited to get moving on Saturday," Karen said.
You can donate to the Move to Cure ALS here.
---
@B0B0Assman
bowen.assman@vernonmorningstar.com
Like us on Facebook and follow us on Twitter and subscribe to our daily and subscribe to our daily newsletter.