When Reno Ouano got the phone call, he initially thought someone was playing a joke on him.
But the message was true: he'd just won a 2023 Toyota Rav4, and all he had to do was drive from Surrey to Vernon to claim it.
Ouano and his wife Kathy made the trip to Vernon Toyota Friday, after Ouano won a random province-wide contest draw by the Knights of Columbus, a Catholic organization that raises money for a wide variety of charitable causes.
"It hasn't sunk in yet. I can't believe I won," Ouano said. "It's just a blessing. I didn't expect it."
Ouano says he'll continue buying a ticket from the Knights of Columbus every year. Quoting Wayne Gretzky, he said "you miss 100 per cent of the shots you don't take."
He is no stranger to the Knights of Columbus, having become a member last year. He and his wife are also volunteers at St. Matthew's Parish in Surrey.
Ouano says he "loves driving," and the only question now is whether he'll get to drive the new Rav4 or if it will become his wife's vehicle. As of Friday, the couple hadn't decided.
"I told (Kathy) you have to get a licence now," he laughed.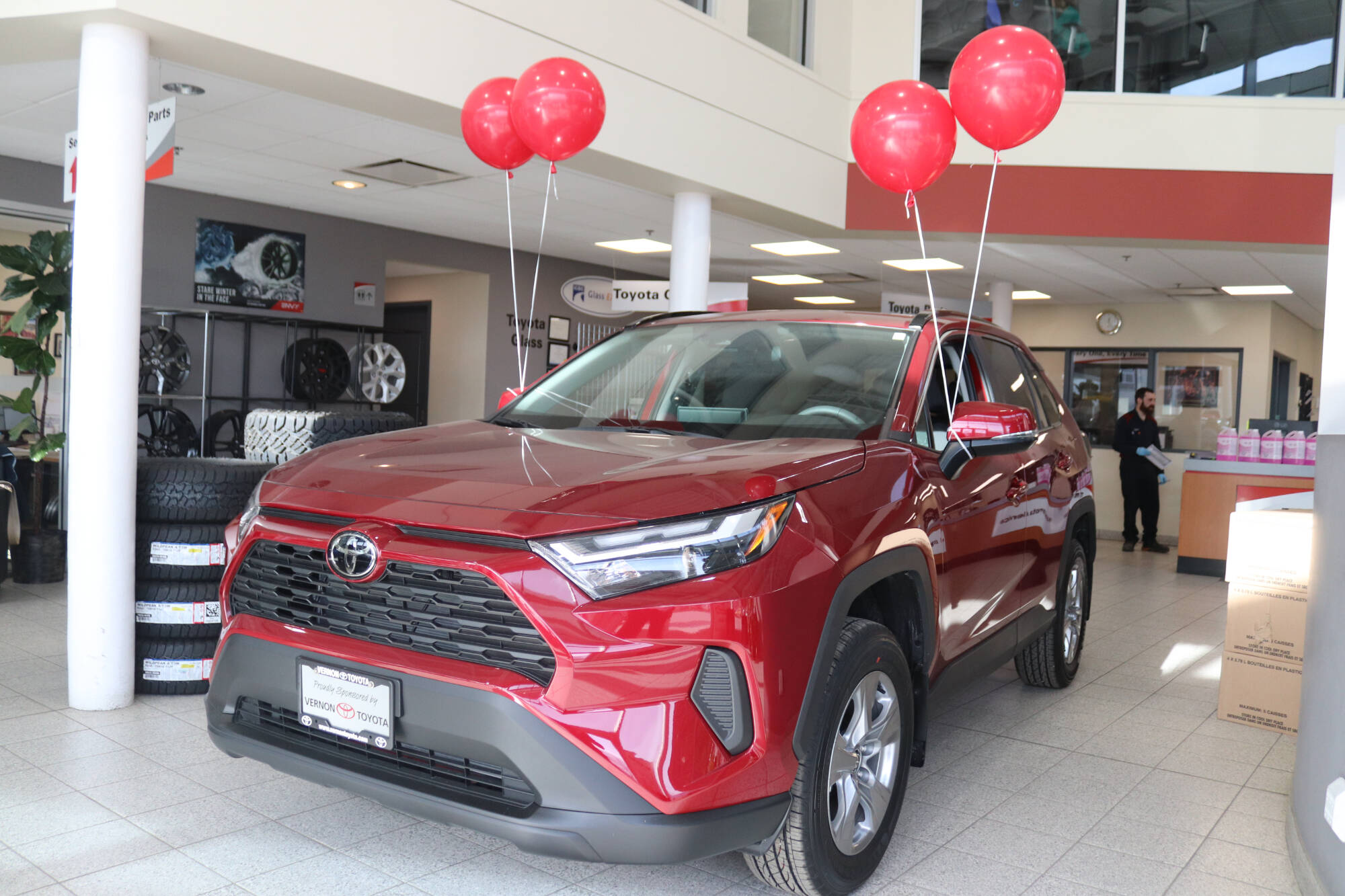 Dale Hofer, a past president of the Knights of Columbus, said the organization's 61st annual charity appeal saw them give out $100,000 in prizes, with the Toyota SUV being the top prize.
Proceeds from the Knights of Columbus's charity appeal go to a variety of causes, including B.C. Children's Hospital, the Special Olympics and food banks. Over the years, Hofer said the Knights have also given away thousands of wheelchairs to people in need of them.
In Vernon, the Knights supported the Coats for Kids program, supplying coats for about 70 kids back in November.
"We have about 12,000 members in British Columbia and 125 or so councils spread out through the province, and each one works for charity, we give to the less fortunate," Hofer said.
Hofer said the Rav4 is rated "very high" in consumer reports, which is why it was chosen for this year's top prize.
Toyota general sales manager Oliver Orlie said giveaways like this are the most fun part of the job.
"We sell cars every day, but when someone wins a vehicle and no money out of pocket it's always super exciting," Orlie said.
Vernon Toyota took part in the contest as the Knights of Columbus's initiatives are compatible with the local dealership's mission statement.
Ouano, a retired banker originally from the Philippines, said the drive to Vernon was pleasant. He added he and his wife have considered moving to Kelowna or Vernon.
"We love this place and the lakes around it," he said.
---
Brendan Shykora