Kelowna RCMP have confirmed they are in the earliest stages of an investigation in relation to a social media post about a sexual assault on a teen.
The anonymous post was made May 7 in the Kelowna Alert Facebook group.
It alleges a 14-year-old girl and a friend were lured by a group of men into a grey truck. It then says she was offered a drink before waking up in a local hotel while being sexually assaulted.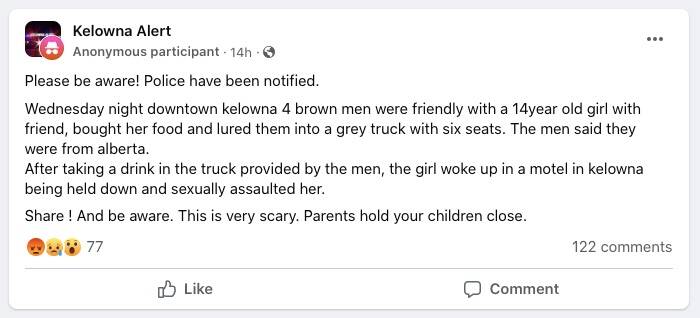 RCMP has not offered any further comments on the matter.
Youth in need of support can speak to someone at the Canadian Mental Health Association distress line (403-327-7905 or toll free 1-888-787-2880) or the Kids Help Line (1-800-668-6868).
---
@thebrittwebster
brittany.webster@blackpress.ca
Like us on Facebook and follow us on Twitter and subscribe to our daily and subscribe to our daily newsletter.