LUNA Nocturnal Art & Wonder returns to Revelstoke for the fifth installment of the iconic art festival with new and exciting additions.
Since its inception in 2017, LUNA has quickly become one of Revelstoke's most iconic events. Mixing different art forms, LUNA is an inclusive community event that has something for everyone. Arts Revelstoke has spent months in preparation for the festival, which has three nights of unique entertainment from Sept. 22–24.
LUNA will start with an evening of musical performances that will be part of LUNA Sound on Friday, Sep. 22. In four different venues, LUNA Sound has 10 different performers taking the stage(s) across the city.
The Roxy Theatre will host Gisela Romero and Ricky Diamonds. The Selkirk Room in the Regent Hotel will host Leno TK, Lum, and Gold Mynd. The United Church will host Scarred Soul Empire, Leather Apron Revival. Finally, the Catholic Church will host Vissia, Stubbs and The, and Blonde Diamond.
Tickets for LUNA Sound are already sold out.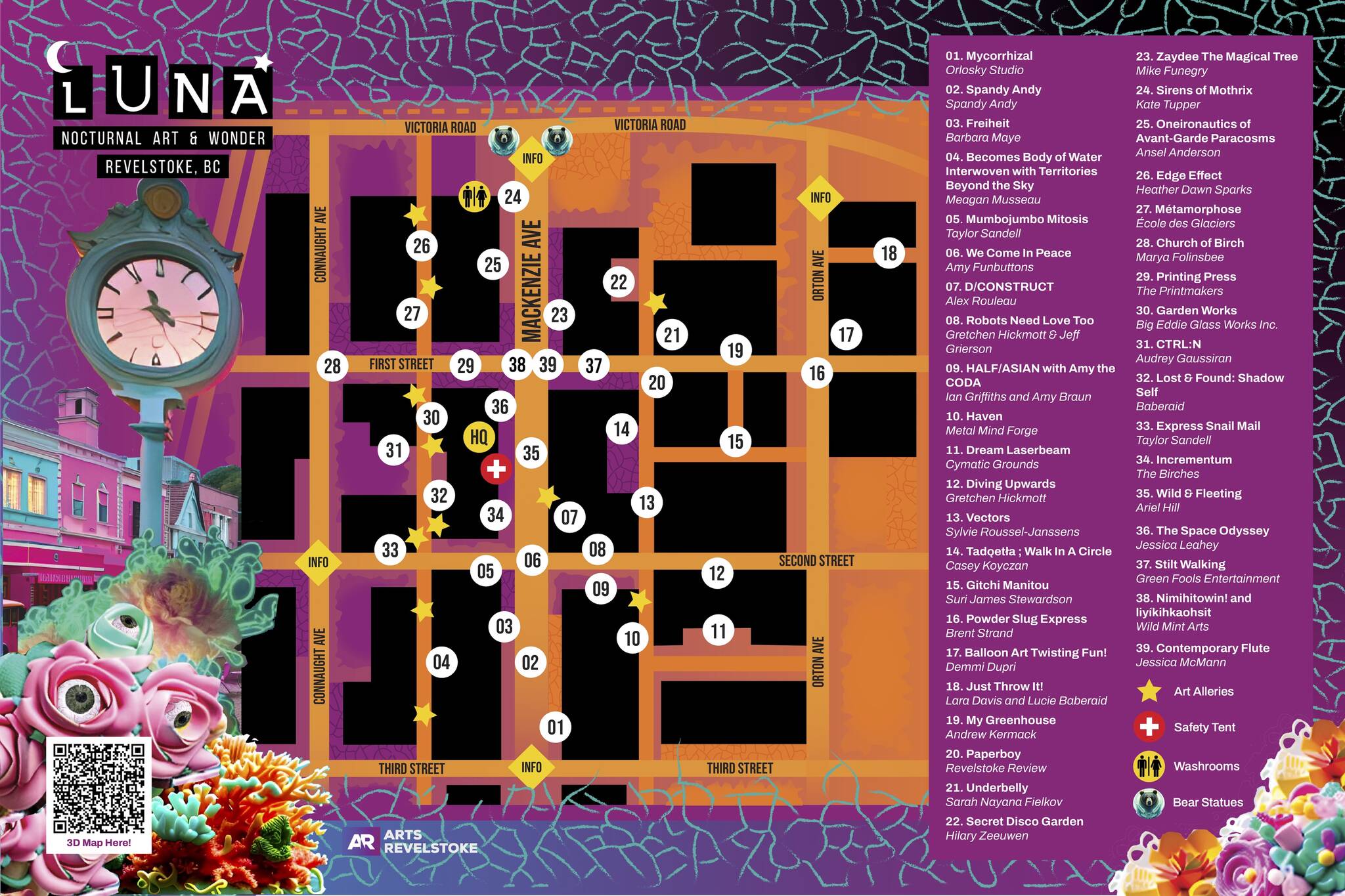 The second night of LUNA on Saturday, Sep. 23 is the night of LUNA Arts. LUNA Arts is the event that the festival is best known for, as the entire downtown will be transformed into a nocturnal art exhibit. With 39 installations spread out in every nook, corner, and cranny of the downtown core, attendees will have to keep their head on a swivel to ensure they don't miss something…or they can follow the map to make sure they don't miss anything.
Finally, LUNA's latest addition is LUNA Rail, which will take the community to the other side of the tracks: the Revelstoke Railway Museum. With family-friendly art and music, LUNA Rail will give attendees a chance to learn more about the industry that helped define the community as they take in the typical art and wonder that defines LUNA.
For more information about LUNA, visit Arts Revelstoke's LUNA website for more details about specific installations.
---
@ZacharyDelaney
zach.delaney@revelstokereview.com
Like us on Facebook and follow us on Twitter and subscribe to our daily and subscribe to our daily newsletter.