Two Osoyoos business owners, one of whose business is on evacuation order, have made it their mission to feed and hydrate the firefighters and first responders on the front lines of the Eagle Bluff wildfire. They are hosting a barbecue Monday night.
Melissa Genberg from Queen of the South Charcuterie and Sara Van Der Hoeven from Junction 3 Coffeehouse in Osoyoos have been making hundreds of meals for all first responders since the wildfire started on Saturday, July 29.
"The firefighters are working so hard. We just want to make sure they are fed and hydrated," said Genberg. The group of grassroots volunteers have been serving breakfasts and lunches at the Sun Bowl Arena in Osoyoos where the firefighters gather each day."
The Queen of South Charcuterie business is on evacuation order in the industrial area so that's where Genberg got the idea to feed the firefighters.
"My friend Sara owns Junction 3 Coffee House, I am used to doing catering and my dad is Tony who used to own Tony's Meats in Penticton so we all know how to pull a meal together. My dad always says that we pull together and help as a community when needed, so that's what we've done."
On Monday, the group of volunteers which include Genbergs children and some of her staff made 450 huge sandwiches, and two huge pots of chilli, and offered granola bars, chips, Gatorade, water, pop, chocolate bars, milk, yogurt, juice and fruit.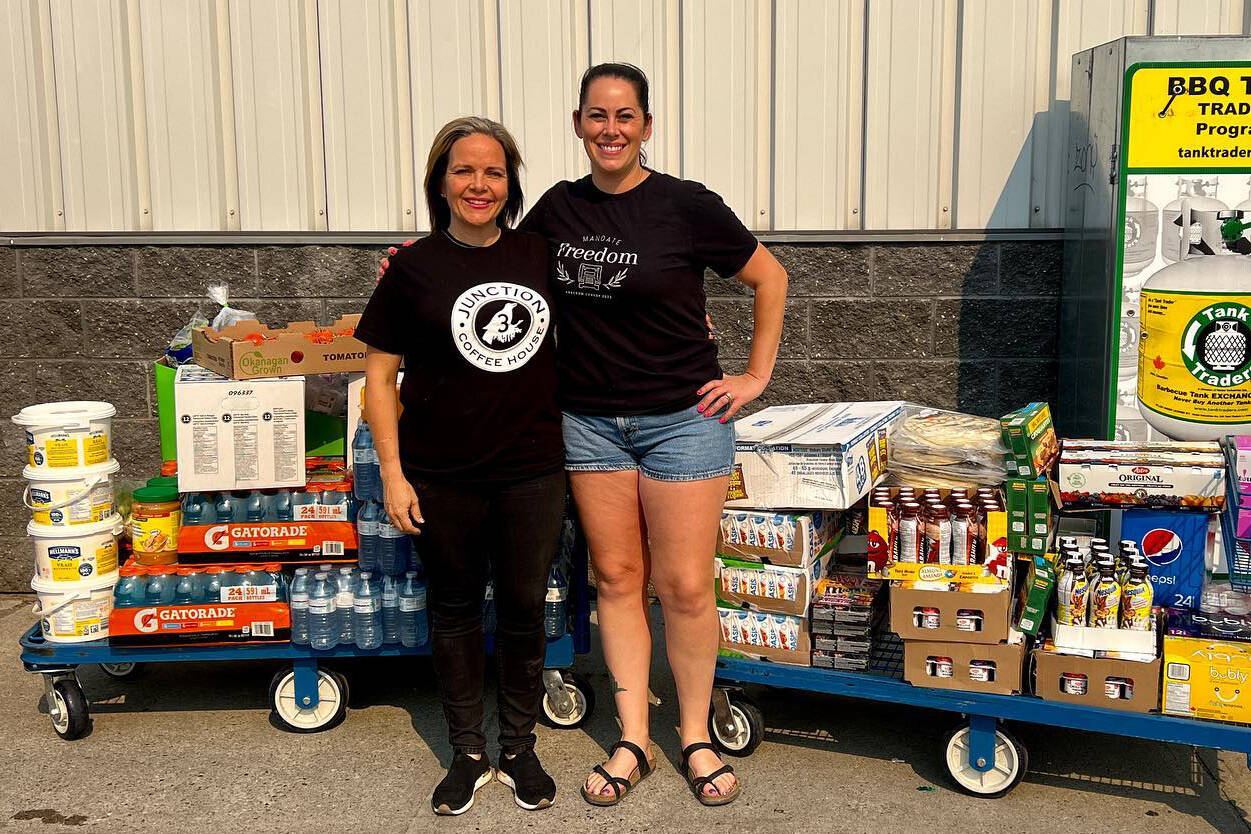 On Monday night at the arena, they will be serving each fire crew as they come off the line with hamburgers donated from A&W, smokies and a variety of salads.
Genberg and Van Der Hoeven have been taking donations since Saturday to help them buy the groceries and so far $7,000 has been donated.
"It's so neat to see the community and local businesses pull together like this," said Genberg. "Small towns always do."
The local McDonald's dropped off cheeseburgers and coffee on Monday.
Buy-Low Foods Osoyoos and Jakob Keller from Need A Lift Truck Services dropped a load of breakfast, fruit and other goodies. Hot breakfasts and lunches are being made daily for firefighters when they come off the line.
Numerous residents who had been evacuated have also made donations, remarking that it is to "show our appreciation to the persons fighting to save our home."
They are still collecting donations of money or food and drinks. Whatever is left over from the funds gathered will go to the Osoyoos Fire Department, said Genberg.
You can donate by E-transfer to qscharcuterie@yahoo.com or cash to Sara at Junction 3 Coffeehouse or at the arena.
To report a typo, email: editor@pentictonwesternnews.com.
<>
Don't miss a single story and get them delivered directly to your inbox. Sign up today for the Penticton Western News Newsletter.
<>
---
@PentictonNews
newstips@pentictonwesternnews.com
Like us on Facebook and follow us on Twitter.