The Grizzly Plaza is getting an upgrade after Revelstoke City Council approved the concept design unanimously at the Committee of the Whole meeting on Thursday (July 13).
Starting with a grant from the Columbia Basin Trust early last year, the Grizzly Plaza Steering Committee was formed to start examining what an upgraded plaza could look like. The committee considered a range of factors, priorities, and designs to improve the plaza, which all went into the planning of the project.
Before the designs were created for the changes to the plaza, the City conducted a survey to gain a better understanding of what the community's priorities were. Out of more than 330 respondents, 58 per cent were in favour of upgrading the plaza, but also upholding the heritage elements of it.
A key priority for the City was increasing the useability of the plaza by making it more accessible and inviting to spend time in. They want to make the plaza a hub for the community whether there's active programming going on or not.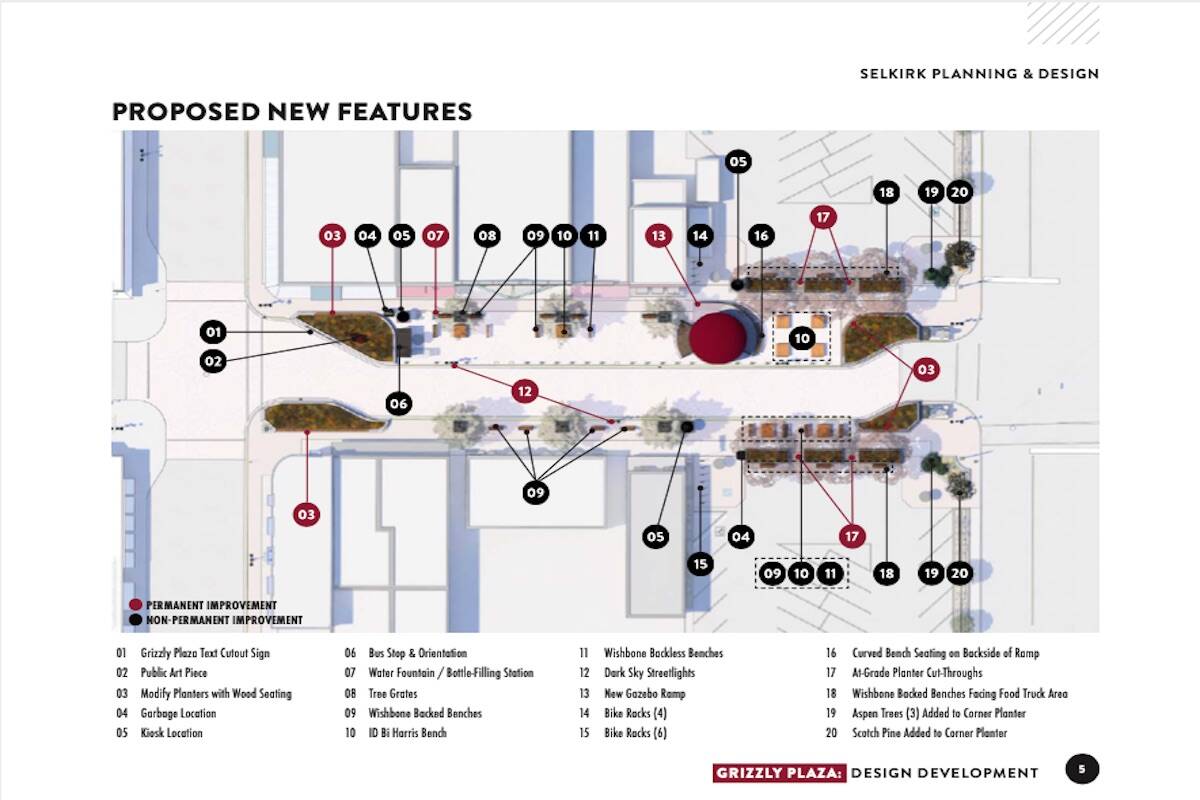 Some of the changes included the addition of a wheelchair ramp up to the gazebo, adding more seating, and modifying the bus shelter.
READ MORE: Former Revelstoke Grizzlies MVP commits to Okanagan Lakers
Director of Engineering, Steve Black, said the changes will roll out slowly in order of what they can upgrade the fastest so that it doesn't interfere with the downtown events like REVY.Live Outside. One of the first changes will be installing the new dark sky friendly lights that will also roll out across the city.
"Making sure everyone can access the plaza is key," said Black.
As wheelchair access to the gazebo will require more disruptive construction work to build, Black said the ramp is planned for after labour day weekend at the end of the summer.
While the initial upgrades will be quick and relatively subtle, the city is also looking ahead to more substantial changes that it can pursue with more funding at a later date. Black mentioned one example of using the water pipe replacement that is due for Mackenzie Ave. as an opportunity to raise the whole road up near the plaza to make it all one even surface. The road lift would maintain the cobblestone, which requires both more time and funding to accommodate.
The window of construction for the first steps of the plaza development is expected to be completed by next summer.
READ MORE: School Safety Project budget approved for Revelstoke elementary schools
---
@ZacharyDelaney
zach.delaney@revelstokereview.com
Like us on Facebook and follow us on Twitter and subscribe to our daily and subscribe to our daily newsletter.