The Revelstoke Visual Arts Centre (RVAC) were the recent recipients of a special grant from 4Imprint, which provided custom RVAC branded aprons for the group's workshops that often get a bit messy.
In trying to amplify its presence in the community, while also solving a recurring mess issue, RVAC landed on branded aprons. The idea killed two birds with one stone, making it an affordable option for the centre while also helping with the chaos that art workshops can bring. Taylor Sandell, programming director and gallery administrator at RVAC, spoke about how the aprons became even more affordable than the centre thought and how they'll be used.
"Meghan [Porath] reached out to this company. And I don't think she was expecting much of it. But then all of a sudden, they give it a stamp of approval and a whole collection of donated aprons," said Sandell.
The business Porath had contacted for the aprons was 4Imprint, which is an international business that has a Canadian division. 4Imprint specializes in creating custom branded products for order. Anyone can order from the business, but just 1,500 organizations across the United States and Canada received the $500 grant like RVAC. For RVAC, the grant covered the cost of the aprons.
Sandell explained that a few of the aprons will be given out at the pottery garden party, but that the rest would be used for any of the many different art workshops that the centre hosts.
"We've got quite a bit going to be coming out," said Sandell of the workshops.
While it always hosts stunning art gallery exhibitions and artist studio space, the centre also regularly hosts various workshops for different types of art. It's only halfway through the year for the centre's programming, but it's already hosted more than two dozen workshops.
"From January to June was 28 classes," said Sandell.
With roughly 10 people per workshop, the centre's taught almost 300 people new artistic talents.
As the programming director for the workshops, Sandell was able to speak to what it means to her to organize the workshops.
"I do definitely feel quite proud like scrolling back through the list of just how many workshops we've been able to do," said Sandell.
Making a mess while creating art isn't a necessity for Sandell, but she did say it was 'encouraged'.
"It depends on what kind of thing you're looking for. But no, I think if you're really looking to let go and have fun and really have a super cathartic experience, then making a mess is very strongly encouraged," said Sandell.
She has hopes of expanding the centre's fiber arts workshops, which would not require an apron to protect the workshop attendees from a mess but has had trouble finding a teacher.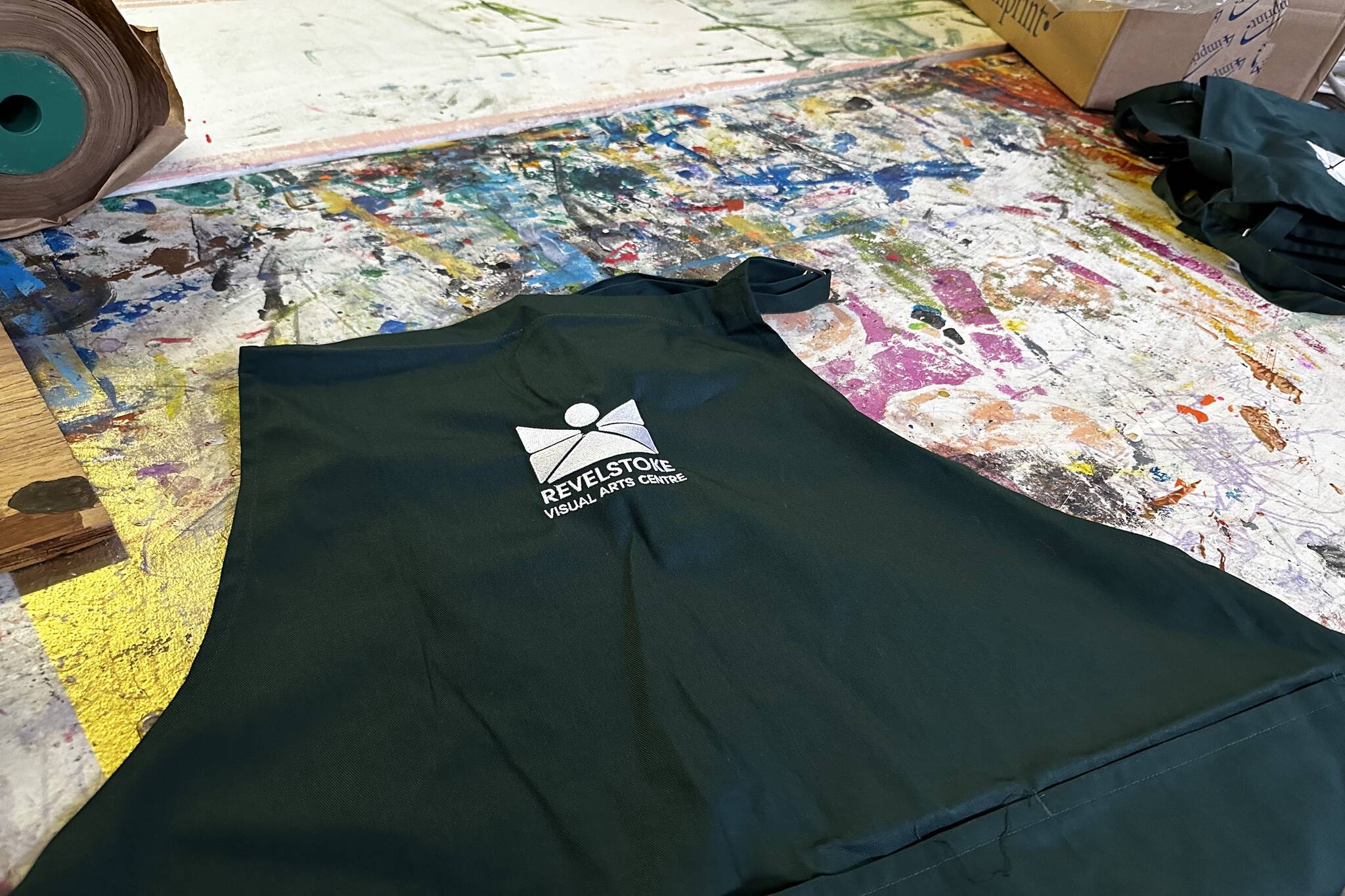 "I'd really love to do like a visible mending and an embroidery workshop as well," said Sandell.
Part of the centre's intention with the aprons was to help mitigate some of the mess for the children's program, but Sandell admitted that it was probably the adults who'd get more use from them.
"Often, I'll like turn around and [the kids] will be painting themselves in a workshop. So, they're pretty happy being fully covered," joked Sandell.
While the workshops have been busy over the spring and summer, Sandell is expecting an uptick once the winter arrives. The centre will be expanding some of its pottery and watercolour workshops as space permits, and the centre is looking to add creative writing into the mix. The former two, Sandell said, are always a hit.
Sandell said the success of the workshops is a testament to the Revelstoke community.
"I'm just really excited to see how receptive Revelstoke is to learning new things and playing with artistic things and just kind of having fun," said Sandell.
Information about upcoming classes can be found on the RVAC website. The centre also posts on social media to keep the community up to date on the workshops they have.
---
@ZacharyDelaney
zach.delaney@revelstokereview.com
Like us on Facebook and follow us on Twitter and subscribe to our daily and subscribe to our daily newsletter.