The Kelowna International Airport (YLW) recently announced more domestic flights will be coming and going as the weather starts to improve, and on March 17, WestJet CEO Alexis von Hoensbroech was on hand to discuss the increase.
Kelowna Mayor Tom Dyas and YLW Airport Director Sam Samaddar were also on hand to discuss WestJet's year-round flights from Kelowna to Regina, Saskatoon, and Winnipeg that are being added in the coming months as well as WestJet's partnership with the airline. Seat capacity for all WestJet flights is also going up 28 per cent from the previous year.
"Kelowna is a key market for WestJet," said von Hoensbroech. "We are able to make the announcement and deliver those investments because we have a strong plan. Our plan embraces change and innovation, a simplified and focused network and an unrelenting commitment to continuing to provide access to affordable travel all across Canada."
Flights to Regina begin on May 18 and will be available twice a week. Saskatoon and Winnipeg flights both start on June 2. Service to Saskatoon will be twice a week while Winnipeg will be three times a week.
Since WestJet started operating at YLW in 1996, travellers going through the airport has increased from half a million a year to more than two million.
"WestJet's commitment to our region has allowed us to grow exponentially over the past 27 years, propelling YLW to becoming one of the top 10 airports in Canada," said Samaddar.
And on top of the added flights, WestJet is looking to continue to grow in the area.
"It's our ambition to steadily grow and we've decided to focus a lot of this grown into Western Canada, it's our ambition to grow our Kelowna to above average compared to the overall network," said von Hoensbroech, who also noted they're looking at adding more destinations, more frequent flights and aircraft size.
KF Aerospace at YLW also services WestJet's airplanes.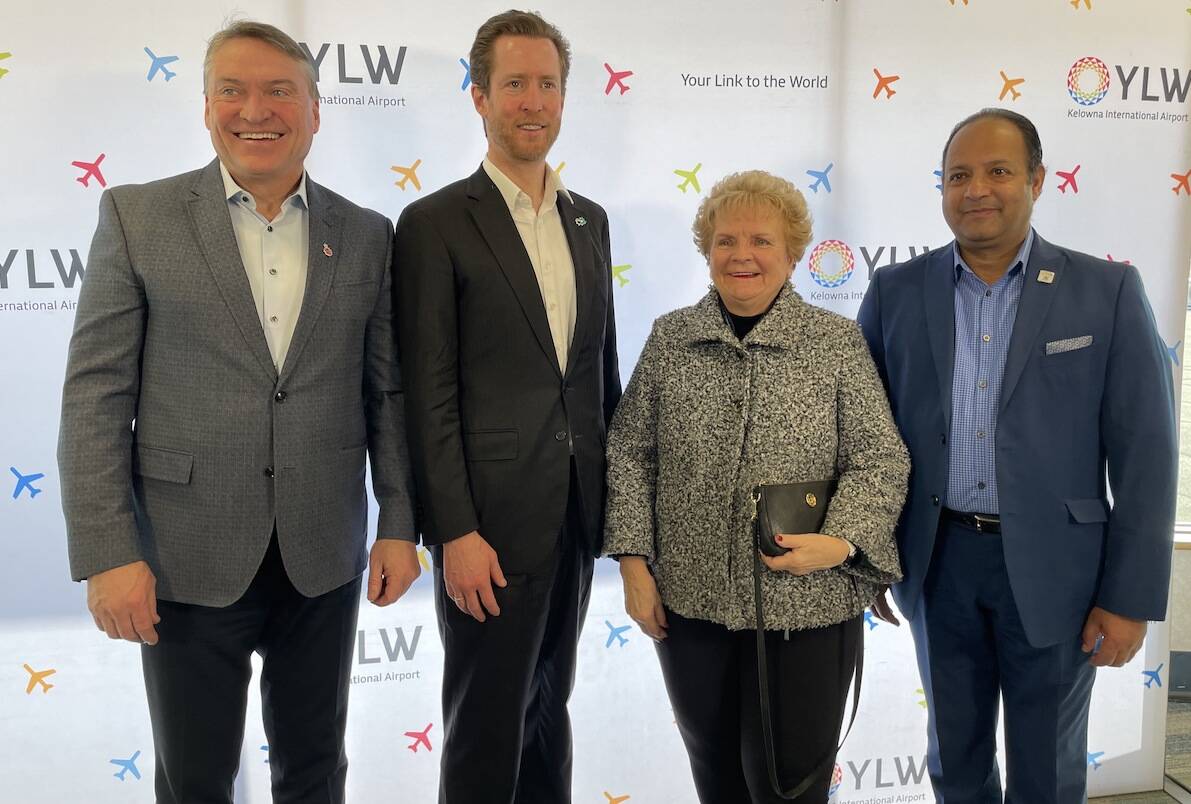 WestJet is also in the process of finishing their acquisition of Sunwing, which will help them grow and expand.
"For us, this is a very exciting transaction," said von Heonsbroech. "Adding Sunwing will give us a lot of scale and this will actually allow us to serve smaller communities in a better way."
Once the deal is complete, they will continue to be marketed as two separate brands for the time being and the added flights to and from Kelowna is separate independent of the deal.
"The success of the past give us all the confidence for the future." von Heonsbroech.
Samaddar also added that the added flights can help the airport get back to their attendance numbers from 2019.
---
@cunninghamjordy
jordy.cunningham@kelownacapnews.com
Like us on Facebook and follow us on Twitter.