Good morning Okanagan! Time to get your Wednesday started!
Fun Fact: Bats are the only mammal that can fly.
On this day
In 1877, the first use of a catcher's mask in a baseball game.
In 1945, U.S. President Franklin Roosevelt dies in office.
In 1955, the polio vaccine is tested, announced to be safe and effective and given full approval by the U.S. Food and Drug Administration.
In 1980, Terry Fox's Marathon of Hope begins in St. John's, Newfoundland.
National holidays
Today is National Licorice Day, National Grilled Cheese Sandwich Day, International Be Kind to Lawyers Day, and National Big Wind Day.
Weather forecast from Environment Canada
In Kelowna

In Penticton

In Revelstoke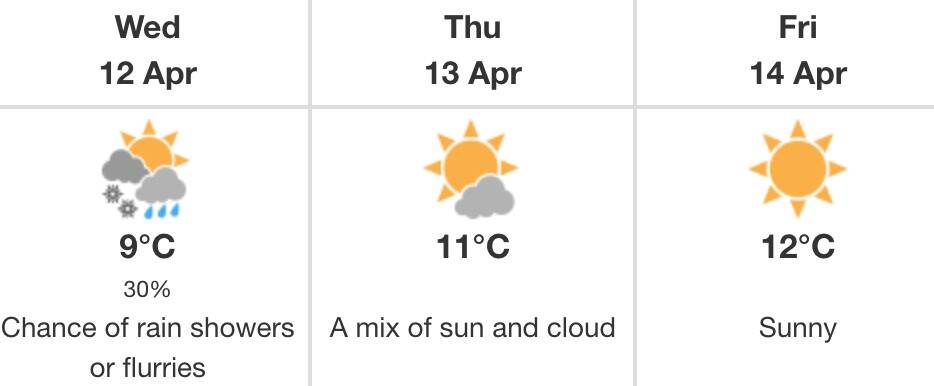 In Salmon Arm

In Vernon

In case you missed it
Driver, woman and baby safely extracted after semi crashes into Kelowna home
TLC and Shaggy bringing Hot Summer Nights Tour to Penticton
65 jobs affected as Tolko's Armstrong mill cuts shifts temporarily
Trending
After nearly losing his life earlier this year, actor Jeremy Renner made his first television appear since the incident on Monday night.
Real-life superhero @JeremyRenner is here!!! 🙌💙 pic.twitter.com/LZyagrpJgY

— Jimmy Kimmel Live (@JimmyKimmelLive) April 11, 2023
Celebrity birthdays
If your birthday is today, you share a birthday with actress Saoirse Ronan (29), singer Brandon Urie (36), TV host David Letterman (76), actress Jennifer Morrison (44), actor Ed O'Neil (77), actress Christina Moore (44), actor Andy Garcia (67), model Brooklyn Decker (36), and Canadian TV sportscaster Ron MacLean (63).
Have a great Wednesday everyone!
---
@cunninghamjordy
jordy.cunningham@kelownacapnews.com
Like us on Facebook and follow us on Twitter.