Revelstoke Café and Revelstoke Coffee are separate coffee shops in two countries sharing the Revelstoke name—one has franchised in Ontario, and the other has hosted United States presidential candidates, but they both owe their name to a visit to Revelstoke.
A quick google of "Revelstoke Coffee" will yield some predictable results off the top: Conversations Coffee House, La Baguette, Dose, and The Modern Bakeshop. Below the local spots, the next hit is often a business out of New Hampshire. Somewhere below the New Hampshire outlet are two places in Ontario. Both the American and Canadian business names were inspired by visits to the town, and in one case, they were inspired by a local café.
Revelstoke, Ontario
38 hours and more than 3,900 kilometers east of Revelstoke, on George St. in Peterborough, Ontario sits Revelstoke Café. The vegan café has been opened since 2019 after two of the owners returned from a trip to western Canada that included a stop in Revelstoke.
Jeff Clarkin, part owner of Revelstoke Café, said that it was his son, Conner, who came up with the name for their restaurant.
Conner had been running a pop-up breakfast café in Peterborough prior to opening the restaurant. Every Sunday he and his friends would host a breakfast where they also served coffee. The experience was such a hit that he approached his dad, Jeff, about the idea of opening an official spot together. Intrigued by the idea, Jeff agreed and the two started looking for a location in Peterborough.
Before deciding on the name, Jeff and Conner approached some local properties with the idea (a vegan sit-in brunch). They were close to a deal with one location, but it fell through, and Jeff and Conner were back to square one. Disappointed by the setback, Conner and his wife, Tasha, headed west for a road trip and a break. They ended up in Revelstoke, at Dose, and talking to John Pierce, who recalled meeting the couple.
"It probably would have been about within the second or third year of our operation," figured Pierce, adding "I remember being very high on our own success, and pretty pepped up on the coffee."
Like Pierce, Conner is a skateboarder and the two started chatting about skateboarding before Conner explained that he was looking to start his own café.
"I was just a vote of confidence in following your own dreams," said Pierce.
Pierce encouraged Conner to go for it.
"You've got nothing to lose. You might as well try and fail rather than failing before you even try," he said.
Inspired not just by Pierce's words, but by Dose itself, Conner and Tasha made their way back east with a reinvigorated sense of motivation and a better idea of the type of place they wanted to open.
"Once he took the trip and came back, there was no turning back," said Jeff.
They resumed their search for space. Conner and Tasha found the location on George St. where the business is now located and set about refurbishing the property. When all was said and done, the space mirrored the atmosphere of Dose.
The Peterborough location was such a hit that Conner and Jeff recently expanded Revelstoke Café to Toronto.
Here in Revelstoke, Pierce is happy for their success. He said that it was 'humbling' to have inspired someone else to start a business, and that it's been great watching them grow.
Revelstoke, New Hampshire
841 kilometers southeast of Peterborough is Revelstoke Coffee, in Concord, New Hampshire.
Lyndsey and Alex Doyle went on a road trip in 2017 that brought them from Vancouver to Calgary.
"We asked a bartender in Vancouver what we should do along the way. And he was like, 'oh, hands down, you gotta go spend a night in Revelstoke,'" said Alex.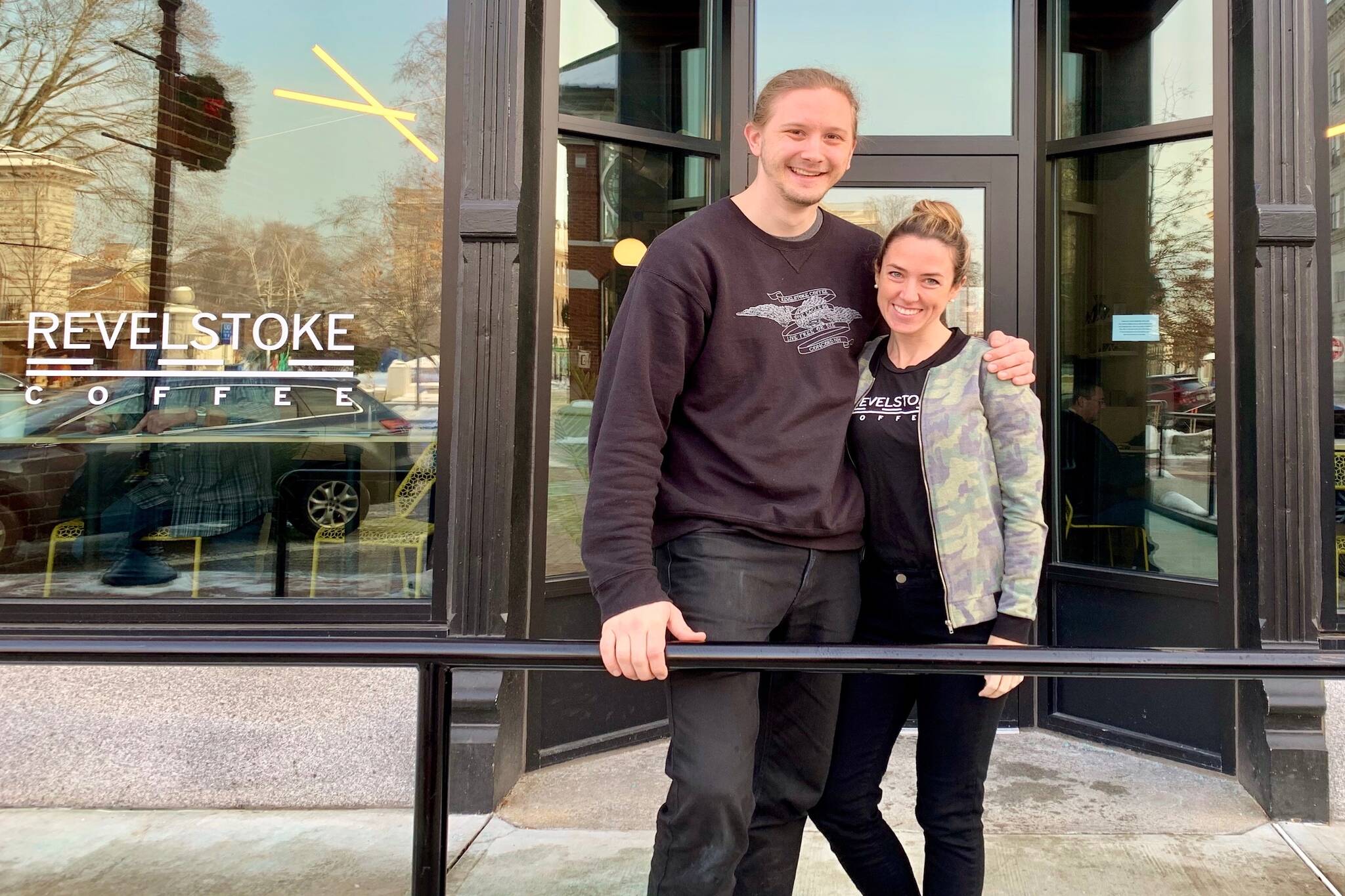 The couple made their way to Revelstoke and stayed at the former Explorer Society hotel, now the home of Eleven Revelstoke Lodge. The two described their experience in Revelstoke like finding a "hidden gem."
"Every person we met along the way was so friendly and so accommodating, and it was beautiful there," said Alex.
Lyndsey and Alex only spent one night in Revelstoke, but the experience was so memorable that they modeled their coffee shop after it when they returned home to Concord. The idea for the name came from Lyndsey, who was inspired in part by the etymology of Revelstoke.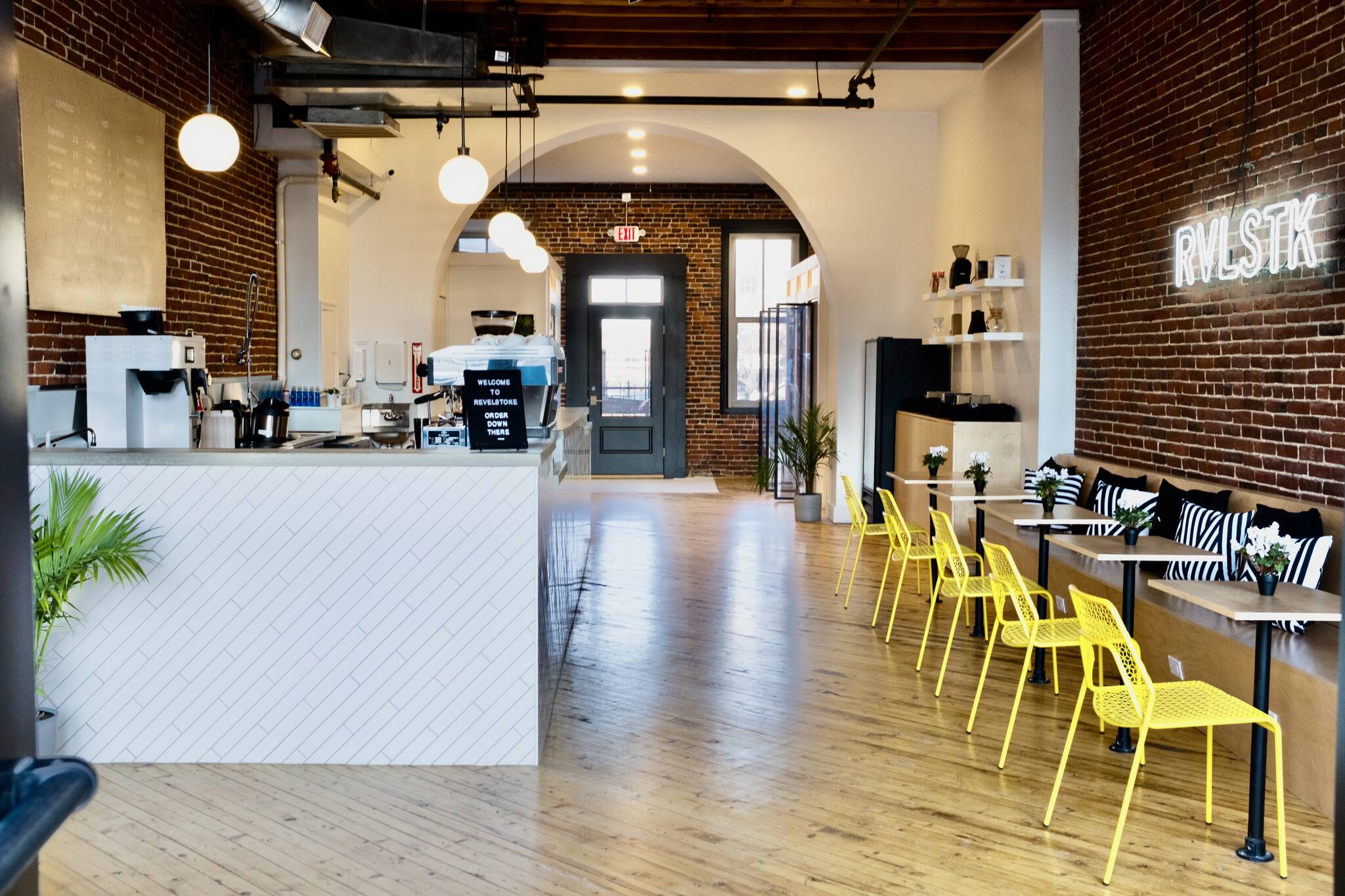 "Lyndsey realized that 'revel' means to enjoy oneself, and 'stoke' means to consume for energy. So already, there was this word that had meant a lot to us personally, that we could also then bring to our town with kind of a double meaning," said Alex.
READ MORE: First peek into Revelstoke's Dose Coffee Roastery
Alex described Concord as a smaller working town that isn't necessarily known for its food and drink scene. However, Concord is the capital of New Hampshire, which does come with some perks.
"New Hampshire, for those of for those in Canada who might not know, is the first in the nation primary," said Alex.
The primaries decide who the presidential candidates are going to be for the next election in the United States. For voters it's already a big deal, but for Concord and for Revelstoke Coffee it's even more important. As the candidates await their future, many of them will visit Concord and take the time to do important political things like visiting businesses, shaking hands, and kissing babies.
With their location directly across from the Statehouse, Alex said that Revelstoke Coffee became a "must stop location for presidential candidates." The shop has hosted more than 15 separate candidates.
The political fame helped get Revelstoke Coffee some fame prior to the pandemic, which helped their business make it through when others had to close their doors.
"It's a nod to New Hampshire that we made it through. I mean, we have a very supportive state. And incredible customer base," said Alex.
Revelstoke, British Columbia
Alex said that he and Lyndsey were also inspired by not just their time in Revelstoke, but also the restaurants here.
Back in Revelstoke, Pierce was feeling the same appreciation for Revelstoke's food scene.
"We don't realize how lucky we are to have so many different cafes, so many different restaurants to actually choose from until we step out into another city with a similar kind of population or size," said Pierce.
Pierce attributed the impressive local restaurant scene to Revelstoke's varied demographic. From billionaires to blue collar, Pierce said he sees both in the shop and appreciates them all.
"It's really amazing," said Pierce.
Since starting their own business, Lyndsey and Alex haven't had the time to get back to Revelstoke since their first. Conner and Tasha keep in touch with Pierce, and they may even be expanding their ties to include sending Dose's coffee from their new roaster to them.
Whether it's British Columbia, Ontario, or New Hampshire, you can find coffee at Revelstoke.
READ MORE: Nakusp man in prison following break-in, RCMP discover 'underground bunker' on property
---
@ZacharyDelaney
zach.delaney@revelstokereview.com
Like us on Facebook and follow us on Twitter and subscribe to our daily and subscribe to our daily newsletter.