The City of Revelstoke has made a significant contribution to a local organization in the pursuit of affordable housing in the community.
On April 3, Mayor Gary Sulz and Coun. Aaron Orlando presented the Revelstoke Community Housing Society (RCHS) with a cheque for $100,000 in support of future projects and development costs.
Those funds became available after the City of Revelstoke obtained a $500,000 grant from the Rural Economic Diversification and Infrastructure Program (REDIP) for funding non-profit housing organizations.
"The REDIP funding grant is intended to support economic diversification and investor-readiness, and we know that access to affordable housing is the single biggest barrier right now to a sustainable economy," said Ingrid Bron, Director of Community Economic Development with the City of Revelstoke, in a press release. "Investing in the capacity of the RCHS to develop more affordable housing will help attract and retain the workers needed across all sectors of our economy."
Sheena Wells and Michael Brooks-Hill, co-directors of the RCHS, as well as executive director Kira Wolf, were in attendance to accept the cheque in front of community and council members.
"Housing and housing policy has been something that has concerned me for as long as I've lived in Revelstoke as we transition into a resort community," remarked Coun. Orlando. "There is a lot happening right now with housing."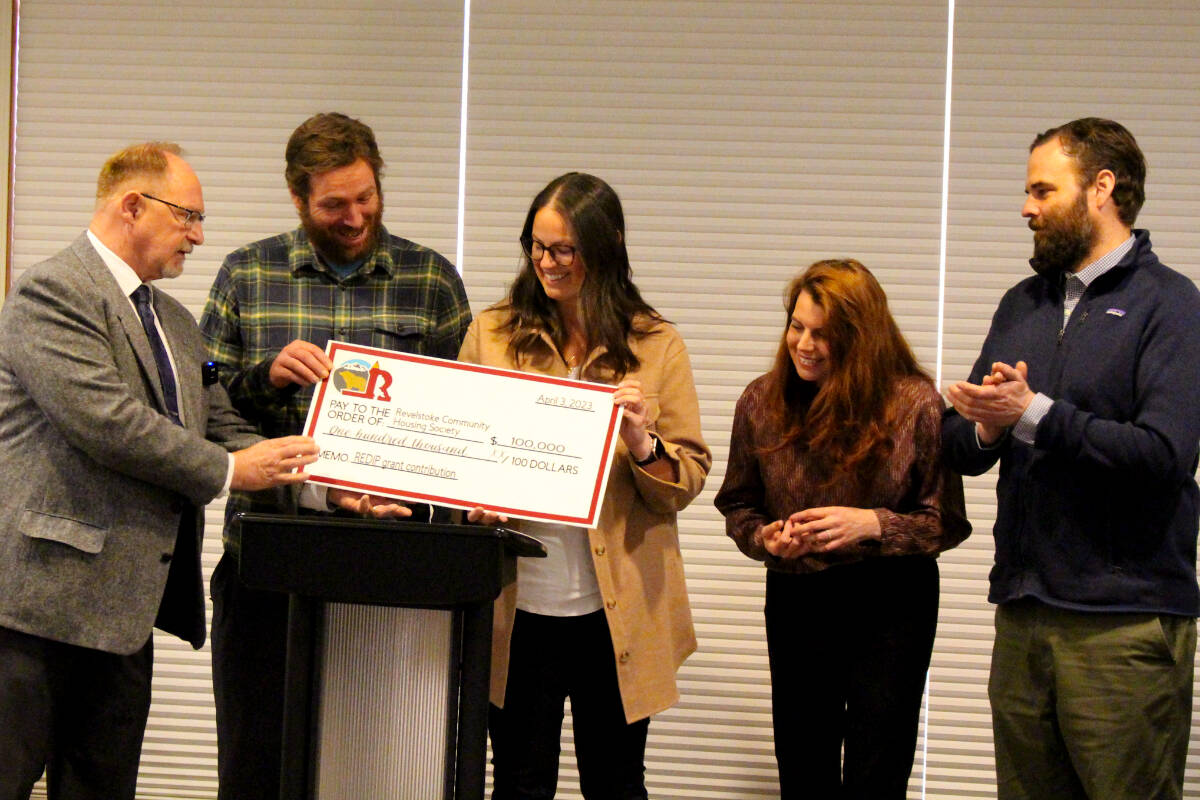 Revelstoke hosted an Affordable Housing Summit on Mar. 9. The event brought community leaders from comparable resort municipalities across the province to Revelstoke to discuss what challenges they face when it comes to housing. Whistler, Banff, Tofino, Sicamous, Sun Peaks, and Canmore were all represented alongside Revelstoke at the summit, which drew in a crowd of roughly 300 residents, both in-person and online.
Coun. Orlando named searching out land opportunities, planning a project near the ambulance station, and a policy to help protect those living in mobile homes as a couple of the housing-related projects in the works at the city.
The RCHS currently has 38 units including townhomes, a duplex, and a 24-unit apartment building.
"It's an amount that's going to do wonders for them," said Mayor Sulz about the donation.
---
@josh_piercey
josh.piercey@revelstokereview.com
Like us on Facebook and follow us on Twitter.
and subscribe to our daily
newsletter
.