It's about clean water. It's always been about clean water.
Miranda Dick, Secwépemc, repeatedly emphasizes the importance of clean water when she speaks about her actions trying to stop the twinning of the Trans Mountain pipeline.
She said for her whole life, stemming from her mom and dad, she's been protecting the watershed. Her mom passed away from cancer more than 18 years ago.
"She always said it was in the food we eat and the water we drink – this cancer would be contaminating our human consumption. So she always said to protect clean water, protect the berries, and protect the salmon and the deer. It's our food supply, right?" remarked Miranda.
"So I always led with that, over the course of time, protection of clean water."
Miranda grew up in the Shuswap, where she can trace back five generations of her family which have lived in the region from "time immemorial."
Miranda said she and others have been raising awareness about the tar sands (also called oil sands) in Alberta, and other potential threats to water since the early 2000s.
The term "everything downstream" was coined from the devastation and destruction for the Athabasca Indigenous people who have cancer and other effects from the tar sands, the flow of pipelines from there, and the possibility of more spills.
"And that's literally how the people in this territory look at it. Because if you're looking at waterways, we take care of the water here and it flows out to the Fraser and then out to the ocean. We term it as the life cycle of the salmon in a four-year cycle.
"So that's the backstory of what it entails to the Secwépemc people who live here."
She said Canada has no deed to Secwépemc land but has a conflict of interest.
"Because Canada owns the pipeline as well as governs the Indigenous people – I see that always as a conflict of interest because you can't govern the people and then also have them being starved out basically. Because if anything happens to our salmon, as we all know, the Indigenous people in the surrounding area heavily rely on our salmon for our food."
She said people refer to the Trans Mountain impact benefit agreement, and judges, lawyers and others say, 'Well the bands have signed on, right?'
"Yes, they possibly did. So if you're looking at this postage stamp-size reservation that signs the agreement, that's only pertaining to that. But then you look at the whole of the nation.
"We have a large mapping of our territory, that's what we're talking about. The Secwépemc as a nation still say no consultation, no consent."
She said Secwépemc people think of the salmon as relatives, relatives who they want to continue to live.
"It's not just saying no to this mega project, it is also to make sure we and the relatives can stay at the population level we would like to see, so we can live here for time immemorial again, in peace."
Miranda was arrested in 2021 after doing a hair-cutting ceremony at the site where Trans Mountain was putting the pipeline beneath the Thompson River.
"My hair cutting ceremony was a portion of a grief and loss ceremony, because so much is being prosecuted for just purely living as an Indigenous person… So the singing and the chanting I was doing was to mourn that process," she said, the process of forcibly putting the pipeline under the water against Secwépemc wishes,"she said.
"It was a great loss to us and it was felt all throughout the nation…"
The RCMP waited until she had completed her hair-cutting ceremony before arresting her.
Miranda said while the media call what Indigenous people do 'protesting,' she calls it protecting through ceremony.
"I want to state that protection of clean water through ceremony is always what we've led by…, whether it's biosolids that are impeding our waterways or wanting to be dumped in a major aquifer."
She referred to Turtle Valley as having the second-largest aquifer in B.C.
Miranda said she and other Secwépemc people were also involved in the protection of Mount Morrisey at Sun Peaks, which was their second berry picking and medicine collection area.
"It's all interconnected, so we, as in my household, not just me, but all Secwépemc, we're doing this all the time."
The destruction to waterways is evident throughout the province in the form of deforestation and flooding, she said.
"The underlying issue is the clean water; what draws Indigenous people is having to protect that. You could just take one drive down the road and you could see the devastation and destruction that's being caused by the Trans Mountain Pipeline. You could just see this is not a good thing.
"And they've actually gone through provincial parks. Even the Kenna Cartwright Park, it's a clear cut straight down to the water, going right under the Thompson River, across that way to the airport side road. And then right up to the next provincial parks area.
"All of these things are impacting the water. Those are the things that are clear that you can see."
She said Indigenous people from B.C. to California and beyond are raising the flag, like the canary in the coal mine.
Miranda will be returning to court in November this year.
During the interview, Miranda sounded relaxed, good-natured and optimistic about the future, both her own and the Earth's.
"It's all about ceremony. We live our lives through ceremony," she said, emphasizing she doesn't want to hand down to her six children all the environmental effects.
"My lifestyle permits me to go up against a billion-dollar corporation and I'm still standing here today.
"That I could say no and I'm doing something about the environmental impacts… My kids are watching that, just like I watched my mother and my father…
"My grandfather said it best to me. He said you're either an environmentalist or you're Indigenous. I said why?
"He said because environmentalists get to move on to the next thing, they get to move, they get to leave.
"We're Indigenous, we live here, we have to look after the environment, and what does that mean, what does that entail? And I said, it means I don't go anywhere…"
Although she's only 45, Miranda is an elder in training.
She said knowledge has been passed down to her, and the elders are leaving, so she must do it.
Artistry is also a big part of her life. She likes textiles, which she uses in basketry and weaving. She also paints and sews, "whatever my artistry will allow me that day."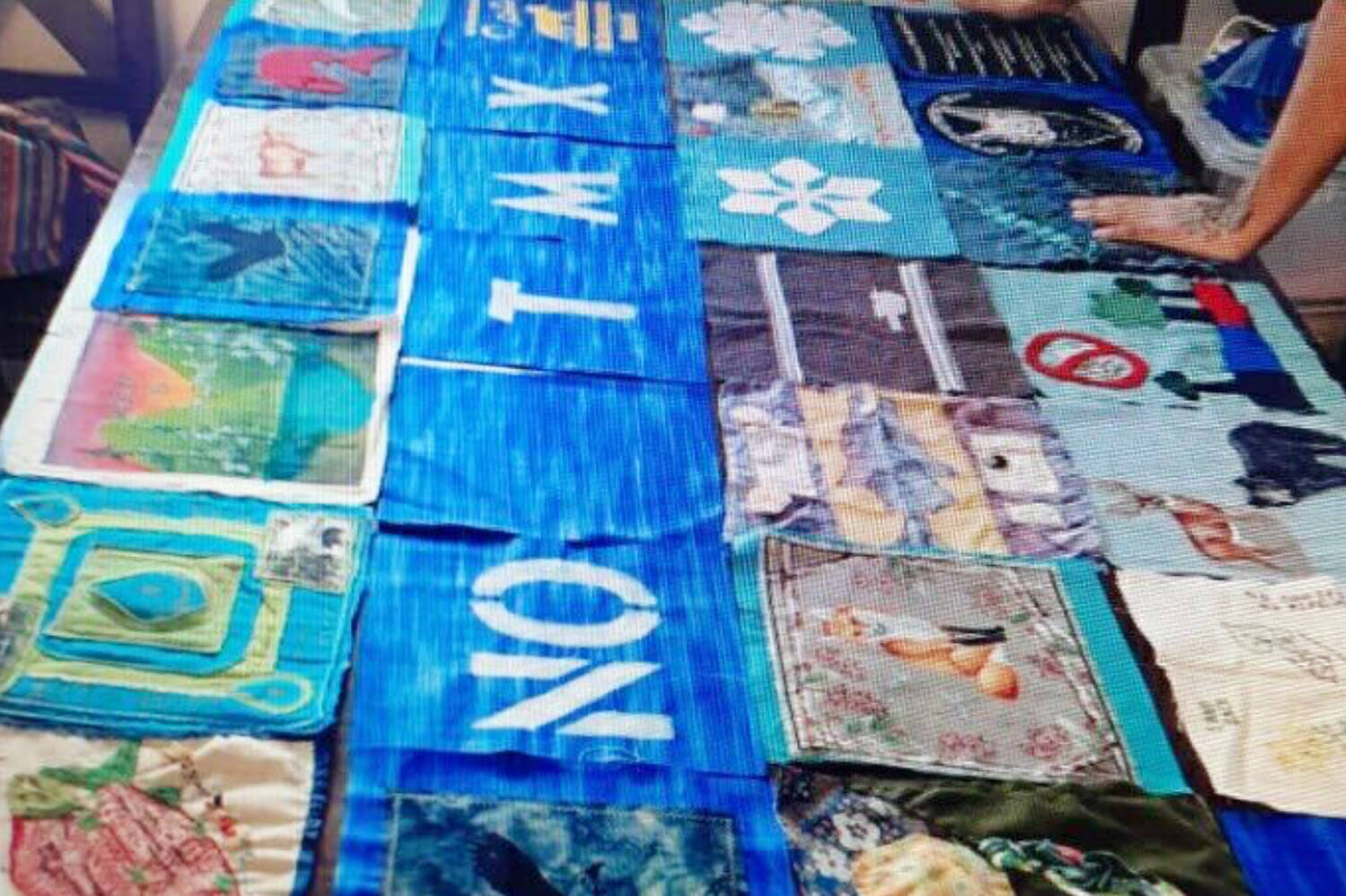 Miranda and her sister made a quilt for water, 30 feet long and four feet wide. People from all over contributed 10-inch squares. It is emblazoned with 'NO TMX.' The youngest person to submit a square was four, the oldest, a 92-year-old grandmother from Quebec.
"I have it here, I take it around everywhere I go to raise awareness of the importance of water," she said, which ranges from universities to kindergartens.
"If you feed into negative you get negative. We see it as, we feed into positivity. That's why I make beautiful things and put that out in the beautiful world…"
---
martha.wickett@saobserver.net
Like us on Facebook and follow us on Twitter
and subscribe to our daily
newsletter
.