Revelstoke's Visual Arts Centre (RVAC) is hosting a powerful exhibition from Indigenous artist Halfmoon Woman Pat Bruderer which highlights the ancestral Indigenous art form of birch-bark biting.
"We have to reclaim, and we have to continue on, and we have to push forward no matter what," said Bruderer.
Bruderer is a member of the Peter Ballantyne Cree Nation. She is Assin'skowitiniwak (Rocky Cree). She has lived in Nakusp for the last five years, but grew up in Churchill, MB.
Her exhibition, titled Biting Back: Our Cultural Resilience, is a stunning collection of pieces that vary in style and genre. In a recent interview, Bruderer spoke about what inspired her and her work, discussing themes of colonialism, residential schools, intergenerational inequity, and reconciliation.
Bruderer's artwork fills the main gallery at RVAC with pieces that include dresses, laser-etched buffalo hides, and of course, birch-bark bitten sheets that are part of permanent collection. The latter demands 13 stages, but the first step is finding the bark.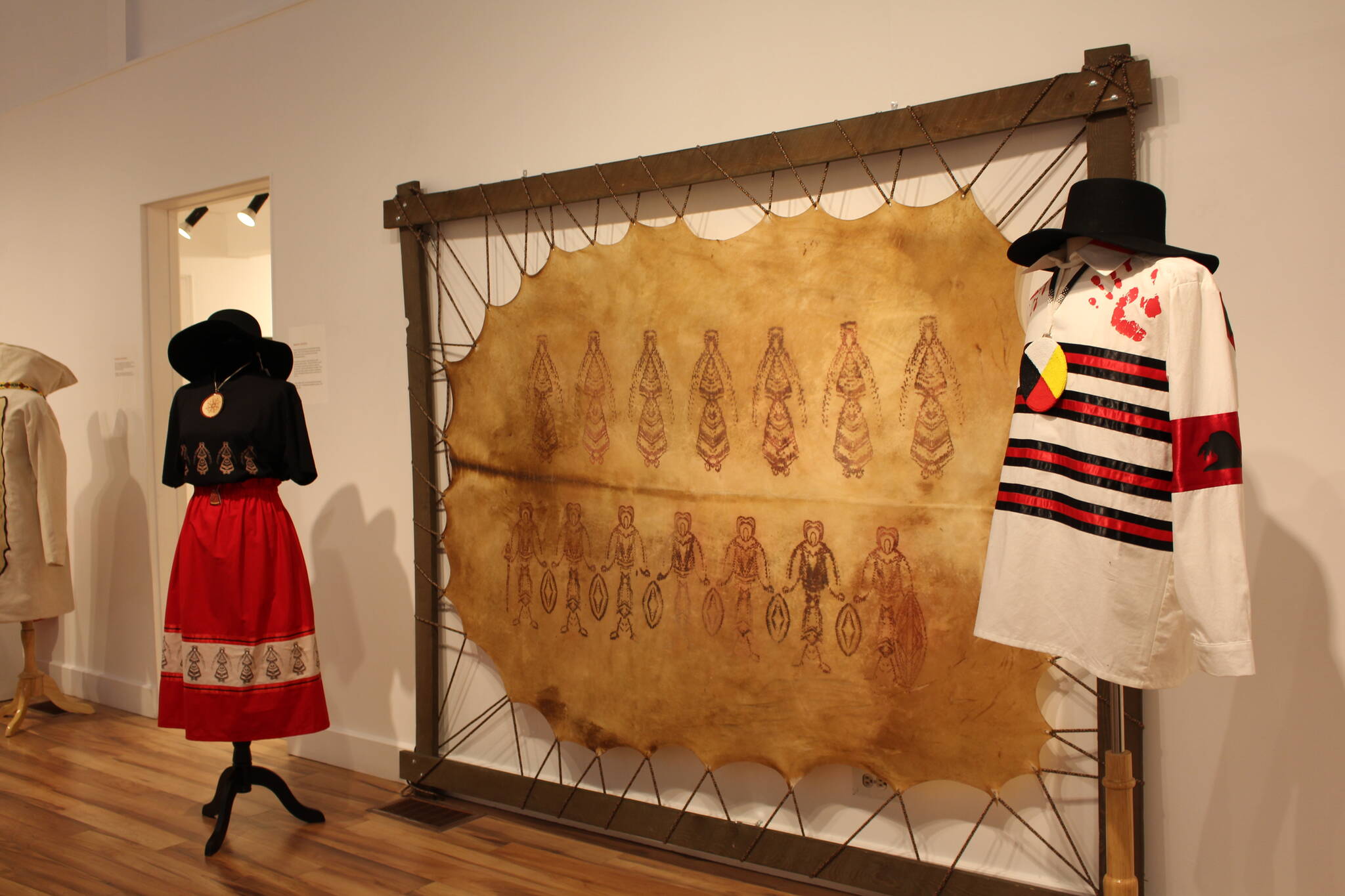 "It'll take me two or three hours," said Bruderer the effort it take to find one special birch tree.
Finding the right bark for birch biting is a long process because Bruderer has to find pieces that can withstand the artistic process. While she wanders in the woods looking for the right bark, she's keeping an eye out for trees with few knots. The birch trees that have no knots produce better sheets of bark for the artwork because they're flat and seamless.
To create the artwork, Bruderer bites folded bark with her teeth, creating intricate designs. The pieces are especially brilliant with light behind them, allowing the birch to glow, and the perforations to pop.
Bruderer taught herself how to birch-bark bite after seeing it more than 30 years ago. She said there used to be more artists who would practice the art form, but residential schools and other institutional factors contributed to the art form's disappearance. Bruderer only knew of one other artist who did birch-bark biting.
"There was only one woman in all of Canada that I had met that was doing the art form."
Although the art form was never directly condemned by colonial forces, the implicit effect of Indigenous artists feeling pressured to hide their art meant that fewer artists passed their craft on, contributing to its decline.
To combat the decline in the prevalence of birch-bark biting, Bruderer has taught thousands of children her art. She estimates that she's already taught two generations within her family and two in schools, but her goal is to get to seven.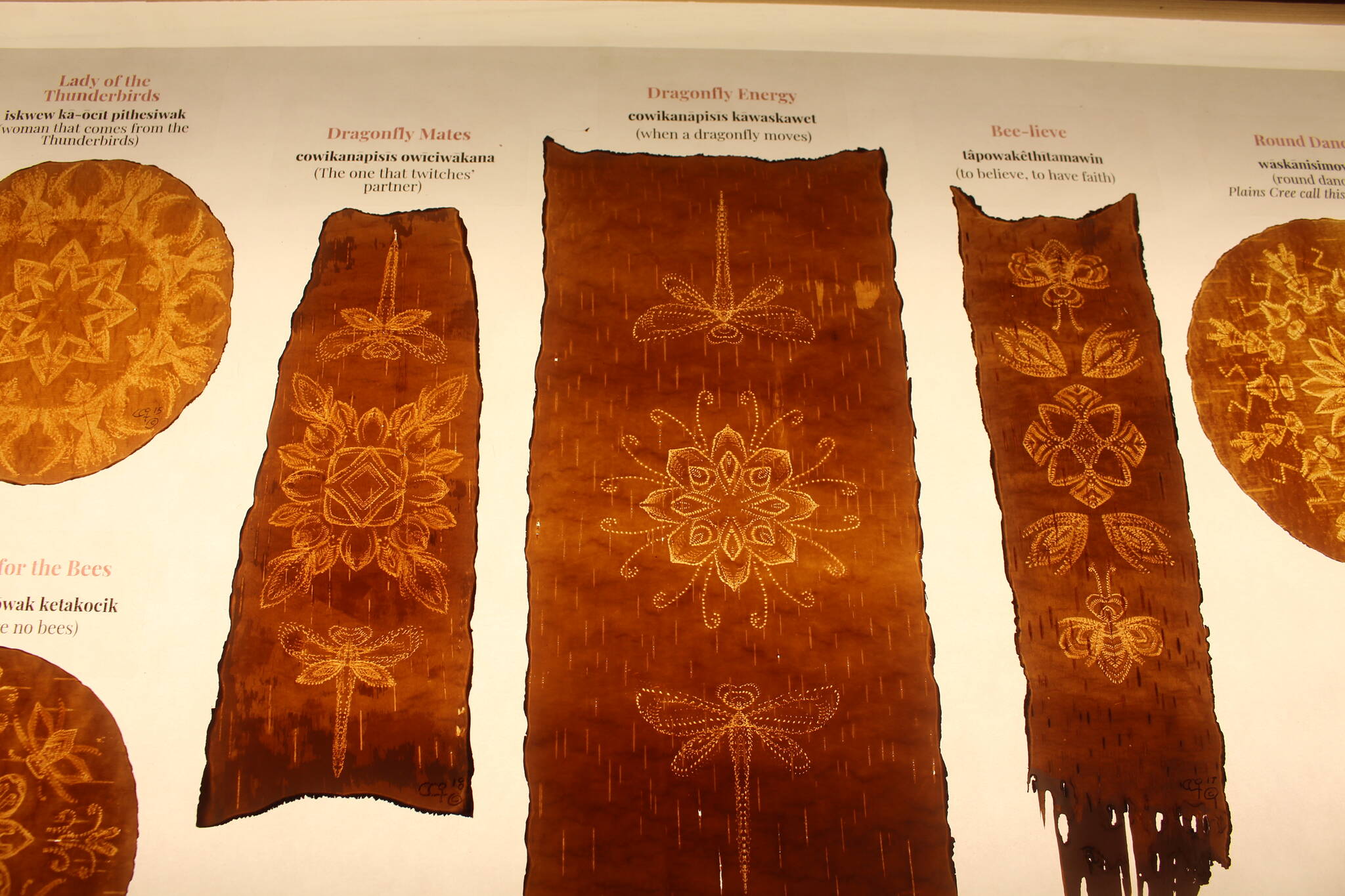 "In our culture, we're taught, do something where it's going to pass on for the next seven generations."
A walk around the gallery reveals sources of inspiration for Bruderer. With artist notes on the walls discussing the inequities in the justice system, the housing system, and the colonial history of the Hudson's Bay Company.
Of all the pieces that fill the main gallery, one of Bruderer's biggest inspirations hangs in the back left corner of the room – her mother.
Ilse Bighetty Schweder, Bruderer's mother, spent nine days lost in the Barrens at just 12 years of age in the 1940s. The cultural knowledge that her mother had learned was the difference of her survival.
Moving at night to avoid predators from getting her while she slept and freezing, and ate frozen cranberries for sustenance, Schweder travelled more than 90 miles alone to safety.
To Bruderer, her mother was the embodiment of resilience, and an inspiration for the exhibition.
Another piece includes an array of refuse in front of a dress that Bruderer created. Plastic, bits of insulation, and a mess of cables, and dirty water represent shoddy housing that Indigenous people across the country endure in their homes.
The themes in the gallery are close to Bruderer's heart because she 'live(s) it every day'.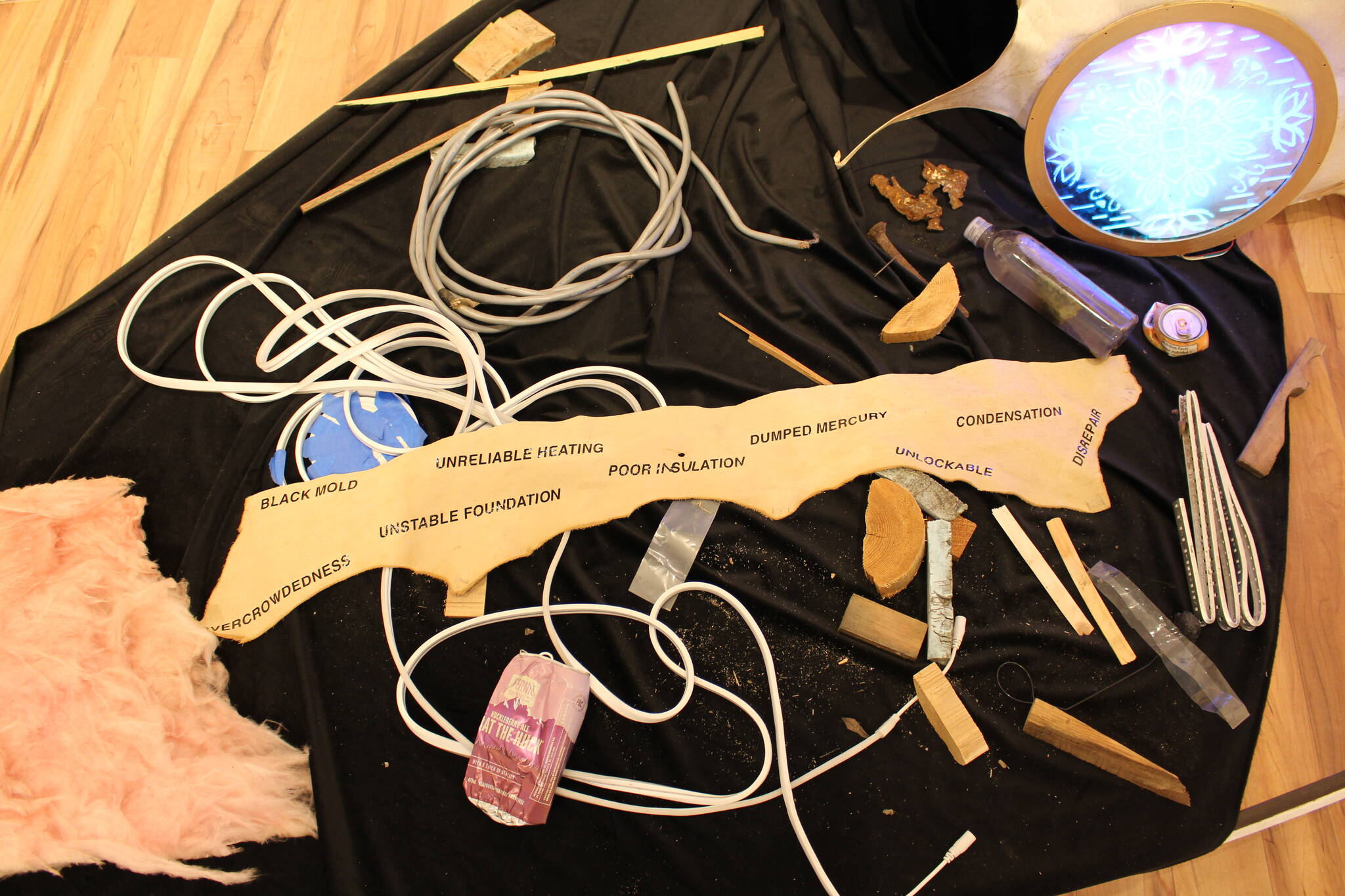 Bruderer's work exemplifies Biting Back: Our Cultural Resilience. Her work literally incorporates a longstanding Indigenous art form that was almost lost, demonstrating resilience. She also replicates the style with laser-etching, which blends the history with the contemporary, reenforcing the modern reclamation of the art – something that Bruderer takes pride in.
"I love it because I can go anywhere. Like now, I'm going to be putting it into material, I'm going to be putting it into jewelry, and stuff like that," she said.
The entire exhibition is reconciliatory for Bruderer. She defined what reconciliation meant to her.
"Reconciliation is making a difference, not wearing a shirt, but actually making a difference by reaching out to (Indigenous communities and people) and by making a difference in their life – a positive impact," she said.
Bruderer explained that in 40 years, the RVAC exhibition is just the second she's ever had, which allows her to share and celebrate her art and culture.
She also prompts people who attend her exhibitions to reach out and communicate with her to try to create the positive impact that she said is integral to reconciliation.
Using the laser-etched method, Bruderer wants to continue to teach, and to create an income from selling her art form that was so close to being lost. She aims to help support her family by practicing a cultural art that has shown resilience in the face of near extinction.
Bruderer thanked the people that helped her with the exhibit.
"Without all the people that have helped me work on all these different things, I wouldn't be able to do it all."
Halfmoon Woman Pat Bruderer's work was sponsored by the First Peoples Cultural Council.
To view or learn more about her work, visit www.halfmoonwoman.com.